Like many great ideas should, my latest pet project was inspired by an XKCD cartoon.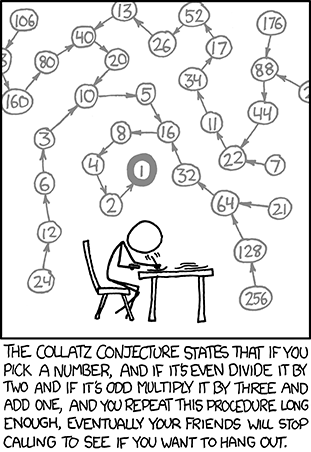 Of course I recognized the graph right away. I never heard it described as Collatz Conjecture before, but this concept also makes an appearance in my very favorite book of all time,
Godel, Escher, Bach
. In a dialogue between Achilles and the Tortoise, they were referred to as "Wondrous Numbers," and Wikipedia confirms that both terms are acceptable.
After reading the cartoon, I started doodling my own graphs, which -- despite the convulted twistiness of Randall's picture -- are essentially binary trees, going downward from one. If you draw the left branches as multiplying by two, and the right branches as "minus one divided by three", then you may get a graph like this:
1
|
2
|
4
|
8
|
16
|...\
32...5
|....|
64...10



... and so on.
The tree is easy to generate. Of course, it's an infinitely large tree, so you have to decide which nodes to expand. The two main ways I can see to do it are:
1. Start with 1, balance the depth by always expanding the leaves that are at the least distance from the origin.
2. Start with 1, always expand the leaves that have the smallest numerical value.
So for example, in the tree above, I've used method 1. If I had used method 2, I would have needed to add 5, 10, 20, 3, 6, 12, 24,and 40 to the tree before I could expand node 32.
Now, obviously this tree gets large in the vertical direction faster than the horizontal direction at first; later on, when the branches increase exponentially, the opposite is be true. But when I tried sketching the graphs, I was annoyed by all the white space at the top. I thought the tree would look much neater if I started with the root in the upper left corner and tried to push the left nodes downward, and the right nodes rightward. So the above graph would be changed to something like this:
1...5--10--3--6--12--24
|../../
2.|.20
|.|.|
4.|.40
|.|
8.|
|/
16
|
32
|
64

and so on like that, giving me more space to expand toward the bottom right. (Hope that's clear.)
Once I was able to sketch this, I started writing it as a program, but currently haven't finished working out the algorithm to decide where in the grid to place each node. Basically the requirements are as follows:
1. You should be able to display any binary tree with this program (it doesn't have to be tied to Wondrous Numbers).
2. Root is displayed in the upper left corner.
3. Prefer to display children to the right of and below the parent, as much as possible.
4. The algorithm should eventually fill up all available space in a specified grid size.
5. The nodes should be as tightly packed as possible, avoiding empty spots.
6. Parents and children should be connected by straight lines, which do not cross. Failing that, fewer crossed lines is preferred.
I thought of a few different ways to accomplish these goals, but haven't been able to decide which one to focus on first. My first thought was just to place new nodes anywhere nearby, and then gradually move them out of the way as necessary when adding new nodes. This would require me to decide which nodes need to be moved, based on either position in the tree or position on the grid.
I also thought I might go with a hill climbing algorithm, where I just keep swapping nodes at random until the number of line intersections is decreased. However, I don't much like this solution, because calculating all possible intersections repeatedly could eat up more processing time than I like.
That's about as far as I've gotten. Any thoughts?